Unendlichkeit - Brooch
It is a special design for a customer, who wanted something very special for her mother-in-law's birthday.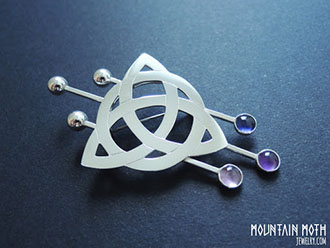 It should be a brooch, preferably with Celtic knot elements, easy to use and also light in weight. From these specifications, this very beautiful brooch was created. It's made out of 925 sterling silver and has many hollow elements which turn it much lighter than you might think at first. Three gemstones show a color gradient from blue, to violet, into a delicate purple. The blue one is an iolite and the other two are amethysts in different shades.
925 Sterling Silver | Iolite | african and brazilian Amethysts