Silver Sun Moon's Eye
In Ancient Egypt, eyes of gods were used for spells.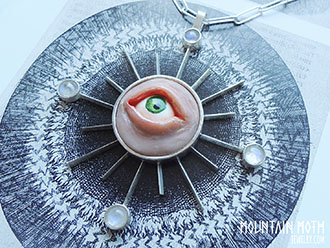 The left eye of Horus is called the moon's eye and has been worn since the beginning of the Old Kingdom until the end of the Pharaohs age as an amulet and protection against the evil eye. Thoth is the moon itself, he received the auxiliary designation "silver sun" and was also master of the moon's eye. Symbolically, the moon's eye stands for regeneration, renewal and healing.
Through the materials used, such as the white silver and the shimmering blue moonstones, this piece of jewelery gets a very special mystical appearance.
925 Sterling Silver | Polymer Clay | Moonstones