Reden ist Silber
The silver looks like if it's molten and dripping over the top and along the tooth of this very beautiful and unique piece. The top is covered with real massive 925 Sterling Silver!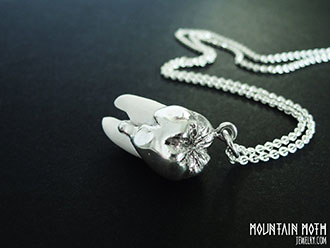 But don't worry the tooth itself is a fake human tooth :)
This "molten look" is the result of a long process of carving modelling and casting in real Silver and made it to a special and elegant piece of artisian work.
925 Sterling Silver | Polymer Clay