Mirror of Soul - Necklace
Eyes are the mirrors of our soul. Even if the mouth does not speak the truth, the eyes do.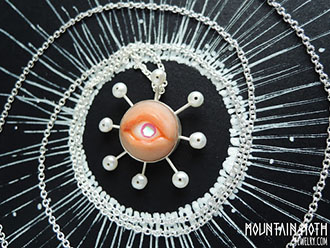 Plutarch once asked for the meaning of the word "alchemy", so he was shown the black in the eye - it was a tiny hieroglyph for "dark, difficult to see", so a mystery. The eyes try to hide secrets, hence the exact look for the truth in the depths of the eye. A black hole, a separate cosmos, which reveals itself only to those who look more closely. So lead the eyes, directly to the person behind it, if one is only willing to really want to see this and not get lost in it.
This necklace is inspired by depictions of alchemy, eyes often played an important role in their secret imagery.
This albino eye has a nice cat eye effect, which can be seen depending on the viewing angle.
925 Sterling Silver | Polymer clay | Freshwater pearls