Medusa Portrait Brooch
In mythology Medusa is always represented as a monster.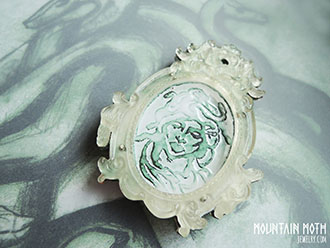 She was a gorgon punished by the circumstances. She was beautiful according to mythology - but she was raped by Poseidon, when Athena saw this she turned Medusa into a monster, whose mere sight now turns everyone into stone. The brooch shows a still beautiful Medusa, but she knows how to defend herself and use her abilities. The motif is hand-painted, etched in copper and enamelled.
925 Sterling Silver | Copper | Enamel | Epoxy Resin | Stainless Steel